Drone Experts
at high altitude
Mile High Drones offers drone services and data analytics to businesses and individuals. With thousands of flights under our belt, the team at Mile High Drones is here to help you find the right, industry-specific solution.
Drones or UAVs (Unmanned Aerial Vehicles) are opening up new opportunities for businesses to differentiate their product and services while being more efficient and reducing liability. Mile High Drones is on a mission to help you navigate the complex technology and regulatory environment to deliver the quality and results to the highest standards in the industry.
High-definition photos and video for asset management, safety checks, insurance claims can all be aided with aerial services.
Using drone-mounted IR cameras, Mile High Drones is able to complete month-long tasks in a few hours.
Let our creative team provide the graphic designer, video editing and effects needed to impress your prospects and customers.
Data analysis, processing, and custom software development translate the raw data into actionable insights
If you like what you see, then let us know how we can help. Our pilots are always looking for their next mission and our sales team is… well eager to meet you. Or sign up to get drone-related news and updates from us. Nothing life-changing… but we'll keep it interesting.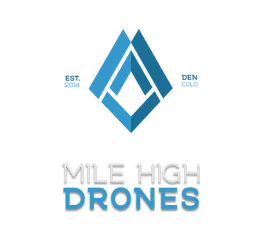 Since 2014 Mile High Drones has been passionate about educating and helping you get the most out of new drone technology. Today we provide high-quality photo and video aerial services, including sophisticated thermal imaging and GIS to a variety of industries, companies, and individuals. Contact us today to see how Mile High Drones can help you take your business or event to new heights.