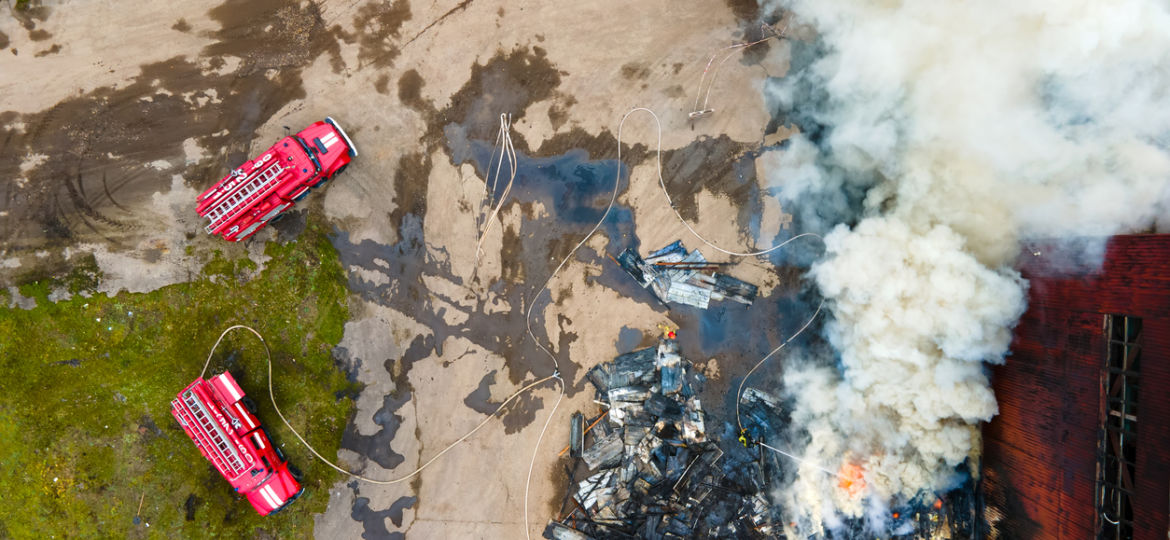 The most critical time in any natural disaster is those first few hours immediately after the event. As rescue efforts get underway, the first matter of business is directed toward the preservation of human life.
But as the dust begins to settle, and the people who are affected begin to process the level of damage incurred, there is an additional response for those who handle emergency management. That is to quickly, efficiently, and safely gather all the needed information regarding the devastation.
In this post, we are going to begin a three-part series on emergency response drones addressed from all aspects. To begin this first part, let's look at what the role of a drone is in the event of an emergency and how a drone service can benefit all those affected by natural disasters.
The Role of Emergency Response Drones
Industries across the globe have turned to unmanned aerial vehicle (UAV) services for those ever-important data sets when time matters. Things like the inspections of industrial smokestacks, cell phone towers, and underground mining operations depend on drones as a viable component to their operations.
Emergency response is another way for UAVs or drones to provide an integral component to natural disaster rescue efforts. Drones can be sent in much sooner than their human counterparts to these devastated areas. Some companies affected by these events have incurred damage to critical infrastructure like electric utility poles and. Drones can provide companies and their insurance partners with a quick assessment of the damages so those who have been hit the hardest can speed up the rebuilding process by providing funding.
Infrastructure damages in a disaster can limit the amount of personnel allowed into a recovery zone. Drones, however, can be operated from a safe distance and safely sent into areas that are flooded, destroyed by fire, or damaged from tornadoes or hurricanes. Drone technology has come a long way in a short time and its ability to capture high-resolution images is paramount in these situations. Emergency response drones can also be fitted with thermal sensors that could aid in the inspection of equipment that may have sustained damage.
Putting Drone Services on Your Emergency Rescue Team
You can see where drones play a vital role in recovery efforts both during and immediately after a natural disaster. But not everyone has staffed a department with state-of-the-art unmanned aerial vehicle, or the subsequent training involved for a qualified drone pilot. 
This is where hiring a professional drone service can benefit all those involved. When each of these services within a particular area knows who to call for drone services in the event of a natural disaster, the sooner that community can get to rebuild. The core of Mile High Drones' mission is to help people. Whether helping in preventing an outage, keeping a lineman safer by prioritizing which pole needs to be repaired first, or improving the time it takes to recover from a natural disaster, we take our responsibilities very seriously.
A professional drone service can orchestrate every aspect of planning, flying, and delivering emergency response data in the event of a natural disaster. That sounds like a vital team player that can offer a bit of reassurance in a time of great need.
Add Mile High Drones to Your Emergency Preparedness
Located in Colorado, Mile High Drones can be your emergency response drone service. All of our pilots are fully compliant with the latest regulations and have their 107 ratings. We put quality into the air in every flight with over $90,000 in assets at any given time.
When you need the best emergency response drone for the greater Denver area, Mile High Drones is ready to plan, fly, and deliver the emergency response data you need, sooner rather than later.
If you're looking for more information, check out how Mile High Drones can further deliver results to the telecommunications and power sector in the event of a natural disaster. We look forward to hearing from you!