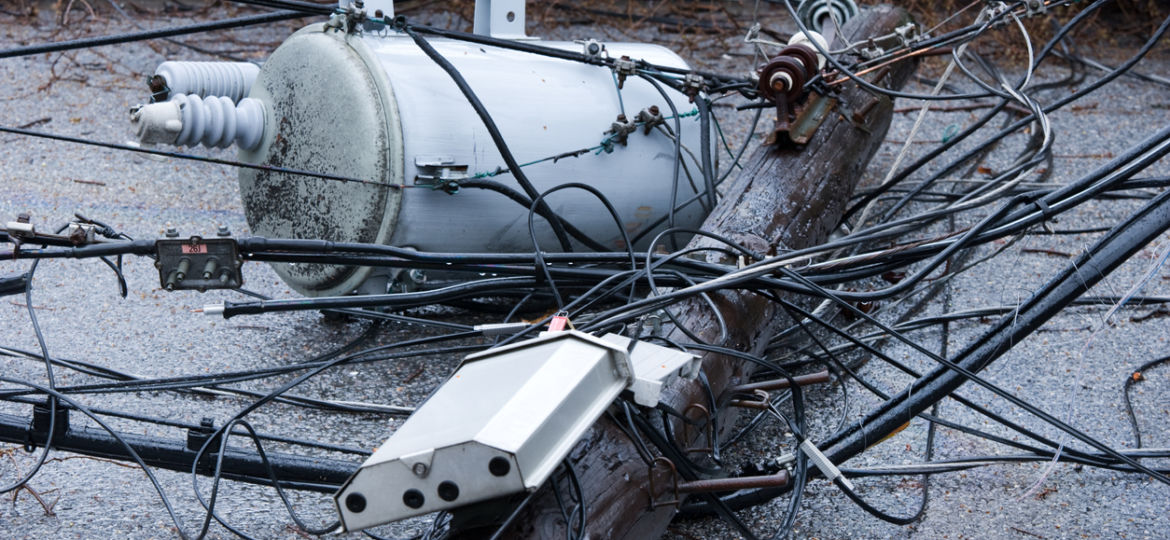 In dealing with any type of natural disaster, the first matter of business is tending to the immediate medical needs of those affected, and locating anyone not accounted for. We can then turn our attention to re-establishing our power and telecommunications networks. Many areas of the nation have yet to adopt a total underground network for utilities. Therefore, the utility poles and the lines they support can be scattered about a disaster scene like a pile of giant toothpicks and string tossed across a room. Therefore, telecommunications and utility companies must have a comprehensive disaster recovery plan.
Drone operations can speed up the restoration of these vital components that we so rely on today. With more people using cell phone technology as opposed to their 'landline' counterparts, there still is an inherent amount of utility support in the form of cell phone towers and satellite dishes that facilitate our communications and internet capabilities. These too, fall like children's toys in the event of a natural disaster.
using drones in TELECOMMUNICATIONS disaster recovery
From the seemingly ever-present hurricanes along the east coast and the Gulf of Mexico to those perpetual burning wildfires ravaging the California coast, cell phone towers and other telecommunications support structures are constantly at risk. When these disasters happen, it is paramount to get them re-established as soon as humanly possible.
In this situation, drones can provide the necessary visual inspections using specialized optics and thermal imaging to assess the damage. There exists a bit more to inspect than just these poles, towers, and lines. The telecommunications sector is supported by a large network of towers, radios, concrete pads, cabinets, and perimeter fencing that can all be destroyed when these disasters happen.
Imagine how quickly communication ability can be re-established when you deploy a drone inspection service for visual assessment of damages within minutes of the event. Imagine how quickly ground crews can enter the damage zone to begin rebuilding within hours instead of days. These are just some ways that a drone can aid in disaster recovery.
Natural disasters are chaotic times, and nobody is going to argue that point. But given the ability to quickly and efficiently re-establish an effective communication grid within hours of the event is simply something that you cannot put a price tag on.
Drones save lives and give us the ability to reconnect with loved ones in these perilous times.
Using Drones to Get The Lights Back On
Down power lines present a whole different set of circumstances when they lie exposed on the ground instead of supported on utility poles. There are times when these events cause further loss of life from these downed lines.
Drones can effectively eliminate further loss of life when needing to assess power line damage from natural disasters.
Using optic and thermal imaging capabilities, drones allow repair crews the ability to quickly assess the damage, place the repair crews where they are needed the most, and effectively deploy their disaster recovery and repair plan in a matter of hours within the onset of the event.
Getting the power back on could be the difference in saving more lives as some citizens may have health issues that require electrically powered devices for life support. Drones allow these disaster workers quicker access to those places where help is needed the most.
Drones can also benefit power companies even when the sun is shining and not a cloud in sight. Using their specialized software and optics, drones allow the power industry the ability to quickly and safely inspect wooden power poles still in existence. They inspect for warning signs of decay and possible collapse in the event they have become rotted. Another valuable drone service.
Mile High Drones 'Can Do'
This is another facet of the service offered by the team from Mile High Drones. We have already discussed how Mile High Drones is ideal for planning, flying, and delivering emergency response data. Go ahead and add telecommunications and utility companies' disaster recovery to that list.
This is another 'can do' for Mile High Drones.
If your company or organization has ever contemplated implementing drone services in time of a natural disaster, we would honor the opportunity to discuss that issue with you and become a part of your first responder teams.