Since drones or Unmanned Aerial Vehicles (UAV's) have taken to the skies, we have viewed telecommunications tower maintenance from a dramatically new perspective.  We now have the technology to conduct efficient, safe tower inspections while cutting costs and producing quality data.  Rapid communication has reduced the size of our world, with three to four million telecommunication towers worldwide.  In the United States, AT&T alone is installing, repairing, or inspecting any of the carrier's 65,000 towers on a daily basis.  Telecommunications carriers are taking flight with drones to ensure our worldwide communication remains uninterrupted.
Safety & Efficiency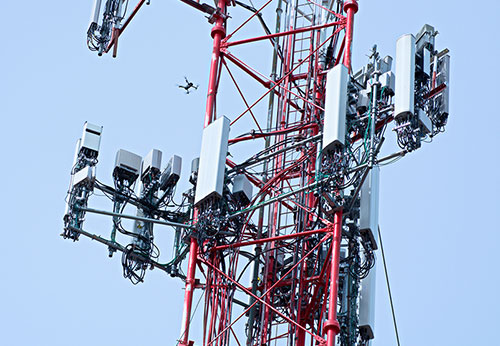 Tower climbing is a small, highly qualified niche of roughly 10,000 workers and is considered one of the most dangerous jobs in the United States.  Since 2013, the U.S. Occupational and Safety Health Administration (OSHA) reports that telecommunications tower accidents have resulted in 19 climber deaths.  Telecommunications towers are in constant need of attention, putting climbers at risk time and time again.  Utilizing drones to complete tower inspections minimizes climber risk.  Drones can fly numerous times, taking several looks at towers, while pilots and climbers are safely grounded.  Tower climbers will continue to remain a necessity for tower repair.  Climbers will be aware of the area in need of repair prior to leaving the ground, making climbs less frequently to complete efficient work.
Drone tower inspections are streamlined and can be completely automated, requiring minimal personnel hours.  Experienced pilots using cutting edge equipment can be contracted to perform timely, necessary inspections at any location.  Telecommunications carriers gain expertise in a cost-effective manner, accessing knowledge and technology to keep towers functioning without breaking the budget.  For a compliant pilot of the Federal Aviation Administration's (FAA) Small UAS Rule 107, regulatory barriers are eliminated.  Flights are performed in a small area surrounding the tower typically at heights between 200 to 400 feet.  Therefore, pilots have no need to fly drones beyond the visual line of sight (BVLOS) or into restricted airspace.  Utilizing drones for telecommunications tower inspections provides a simple, affordable solution for prompt results.
Beyond typical maintenance, nature can inflict damage on telecommunications towers.  Storms producing strong winds, fierce rain, below freezing conditions, or lightning strikes are cause for unanticipated tower repair.  Drones provide a safe method to inspect towers for damage after severe weather without risking a climber.  Telecommunications towers are often frequented by birds.  Birds build nests on towers however, without inspection it is difficult to determine if the nests are causing damage.  Drone inspections are an excellent method to get a closer look at the location of birds' nests to determine whether there may be an issue or whether the birds can remain in place without damaging the tower.
Technical Reporting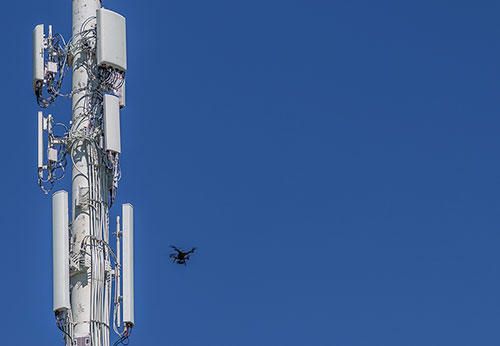 High resolution, 4K drone video footage gives a clear view of the status of telecommunications towers.  Zoomed images allow close inspection while pilots are safely grounded.  Drones can provide thermal imagery with the use of FLIR cameras, a method used to identify potential performance issues in areas where low energy is detected.
Using photogrammetry software, drone footage creates a digital model of each telecommunication tower.  Inspection reports are generated from digital models and can be utilized to monitor the status of each tower.  Digital models are an excellent method of monitoring tower corrosion.  Mile High Drones offers over $90,000 worth of technical equipment in the air, with double that as ground support systems, to provide over 10 solid flight hours for thorough tower inspections.  Mile High Drones' range of drones and optics produce high-quality mapping and digital modeling for telecommunications carriers.
Telecommunications carriers obtain breathtaking, aerial footage from drone flights.  Carriers might use that footage for promotional or educational purposes.  With the use of drones, possibilities for telecommunications carriers are reaching new heights.